Foreign investment lawyers in saudi arabia are typically the first point of contact for foreign investors seeking to conduct business activities within the Kingdom. Their extensive knowledge and expertise regarding the Saudi investment system qualify them to provide effective legal advice and guidance to foreign investors.
In this article, we will explore the crucial role played by the best lawyers in Saudi Arabia, highlighting their responsibilities and services. We will also offer insights into the foreign investment system in the Kingdom, providing essential information for foreign investors looking to navigate the complexities of investing in Saudi Arabia.
Whether you are a seasoned investor or a newcomer to the Saudi Arabian market, this article is a must-read.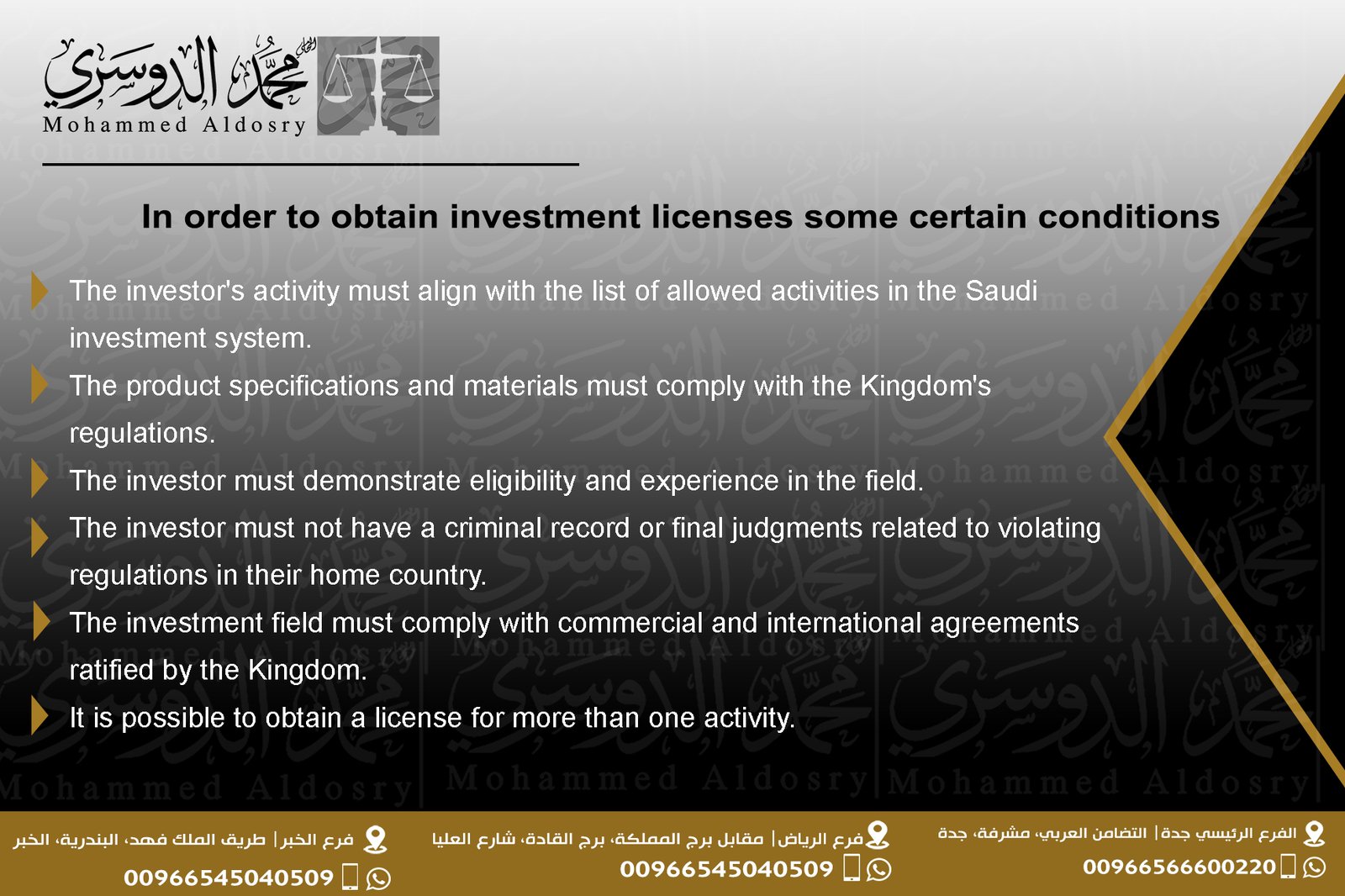 Best Foreign Investment lawyers in saudi arabia.
Hiring Foreign investment lawyers in saudi arabia is crucial for individuals seeking to invest in the kingdom. The laws governing company establishment in the Kingdom differ from those in other countries, making it essential to have an expert by your side.
From identifying suitable investment opportunities to guiding businesses through legal procedures and ensuring compliance with local laws and regulations, investment lawyers possess extensive knowledge of the Saudi Arabian market and provide valuable assistance throughout the investment process.
Whether you are considering a specific investment or need help finding an investment that meets your needs, Foreign investment lawyers in saudi arabia can assist you with the best available legal means. The specialized lawyer can provide a comprehensive evaluation of potential investments and help you make strategic decisions about your future.
Unlike some agents who are involved in the investment process, they have no financial interest in your transactions, so they are able to provide objective and trustworthy advice.
By seeking and doing Saudi Arabia lawyer search, foreign investors can ensure the protection of their interests and maximize their chances of success in the Saudi Arabian market. With that in mind, Prospective investors in Saudi Arabia are likely to seek an answer regarding: who is the best fdi lawyer in saudi arabia?
Mr. Mohammad Abboud Al-Dossary is the best lawyer in Jeddah Saudi Arabia in foreign direct investment matters. His extensive knowledge of the laws and regulations governing investments in the country makes him a top choice for businesses seeking legal guidance and support. With Al-Dossary on your side, you can be assured of receiving sound legal advice and optimal direction to help ensure the success of your investments in Saudi Arabia.
foreign investment law in Saudi Arabia.
Considering the potential for growth in the Saudi Arabian market, investors are curious to know about the following Can a foreigner invest in Saudi Arabia?
 The foreign investment system in Saudi Arabia has undergone notable changes, which now permit foreign investment in all economic sectors, except for certain operations listed in the negative list. Local partnerships are no longer required for foreign investors, and they can now own real estate for their operations.
Additionally, they have the freedom to transfer funds from their companies abroad and are allowed to sponsor foreign employees. To commence operations in the Kingdom of Saudi Arabia as a foreign investor, it is necessary to obtain a license. In order to obtain investment licenses some certain conditions are required:
The investor's activity must align with the list of allowed activities in the Saudi investment system.
The product specifications and materials must comply with the Kingdom's regulations.
The investor must demonstrate eligibility and experience in the field.
The investor must not have a criminal record or final judgments related to violating regulations in their home country.
The investment field must comply with commercial and international agreements ratified by the Kingdom.
It is possible to obtain a license for more than one activity.
The Kingdom of Saudi Arabia has also identified the legal entities and activities that are permitted to invest in Saudi Arabia, which include:
Limited liability companies.
Joint-stock companies.
Branches of foreign companies.
Foreign investments may take the form of establishments jointly owned by a Saudi investor and a foreign investor, or they may be entirely owned by the foreign investor
Education and educational institutions at all levels.
Real estate investment (except in Mecca and Medina).
Various types of industries.
Life sciences.
Communications and technology.
foreign direct investment.
Firstly, direct Investment is establishing or wholly or partially acquiring any economic project that provides products or services from within the Kingdom by an investor who contributes capital or tangible or intangible assets with the aim of making a profit, and takes, for example but not limited to, one of the following forms:
Commercial establishments, including companies, institutions, and branches.
Shares and stakes in companies not listed on the Saudi Arabian stock market.
Ownership of a permanent stake in companies listed on the Saudi Arabian stock market in accordance with the Capital Market Law and its implementing regulations.
In Saudi Arabia, in order for a foreign partner to invest certain conditions must be met. These include:
the requirement for the Saudi partner to hold a professional license, and for the foreign partner to hold a license for the same profession.
the Saudi partner's share in the company's capital must be at least 25%.
The foreign partner must also provide a copy of the establishment contract of their foreign company, demonstrating that the company has been practicing the profession for a minimum of 10 years and has a good reputation.
the foreign investor must possess a university degree in the company's field of specialization and provide a certificate of at least 10 years of experience.
The foreign company must undertake to transfer its expertise and technical knowledge and train Saudis.
The foreign company's representative in the Kingdom of Saudi Arabia must be present for no less than 9 months
Saudi Arabia's financial system for foreign investment has four main components:
Corporate income tax of at least 20%, the lowest in the G20.
Zakat tax of 2.5% on local ownership.
5% value-added tax.
International trade agreements.
Service provided by fdi lawyer saudi arabia.
Having gained an understanding of the investment climate, regulations, and systems that govern foreign investment in Saudi Arabia, it is now imperative to elucidate the role and services offered by foreign investment lawyers in saudi arabia in foreign investment matters in the country. Such services can be of great assistance to foreign investors. The following are the key services that foreign investment lawyers in saudi arabia typically provide:
Helping clients choose suitable investments after explaining the Saudi investment system.
Studying the client's case, identify potential obstacles, and outline next steps for investment application.
Drafting investment contracts in the best format and multiple languages if necessary.
Issuing decisions on property ownership and sale for foreign investment entities.
Assisting foreign investors in structuring their investments in compliance with Saudi Arabia's foreign investment laws.
Assisting in obtaining and modifying foreign investment licenses.
Establishing foreign investment entities and subsidiaries by the best Corporate lawyers in Saudi Arabia.
legal advisor in saudi arabia on the tax implications of foreign investment in Saudi Arabia, including tax planning, transfer pricing, and tax structuring.
providing legal representation and assistance in resolving the dispute through negotiation, mediation, or litigation by saudi company lawyer.
The importance of FDI lawyers' services lies in their ability to provide legal guidance that is tailored to the specific needs of their clients. Their expertise in Saudi Arabian laws and regulations, combined with their international experience and knowledge, enables them to provide comprehensive legal solutions that are essential for the success of foreign investment ventures in the country.
fdi lawyer saudi arabia contact number.
Once you have formulated a basic plan for the investment activity you desire, the next step is to take action and seek the help of an experienced lawyer who can guide you in implementing your investment project based on their expertise.
To proceed with your investment plan, it is important to find a list of saudi law firms in your area that specialize in investment, and gather relevant information about each lawyer, including their contact details.
It is worth noting that if you need to contact the best foreign investment lawyers in saudi arabia specializing in foreign investment in Saudi Arabia, you can simply call the firm of Al-Dossary law and legal consultations at the following numbers: call:00966566600220 and call:00966545040509. This law firm has a team of highly skilled lawyers who specialize in investment-related matters.
They provide professional legal counsel regarding investment matters, and can guide you towards the optimal plans and proposals for your investment. Therefore, it is recommended that you directly communicate with the law firm of Mohammad Abboud Al-Dossary, a highly reputable firm based in Jeddah, Saudi Arabia, serving clients throughout the Kingdom.
In conclusion of our article.
Foreign investment lawyers in saudi arabia the best in 2023.
Foreign investment in Saudi Arabia has been on the rise in recent years, and with it comes the need for expert legal advice and guidance. The specialized field of foreign investment law requires lawyers with extensive knowledge and experience in both Saudi Arabian and international laws and regulations.
As such, foreign investment lawyers in saudi arabia play a crucial role in facilitating and ensuring the success of foreign investment projects in the country. Do not hesitate to reach out to a reputable law firm like Al-Dossary's jeddah law firm to ensure that your investments are in good hands and your interests are protected.
References