Many people search for the best lawyers in Saudi Arabia with expertise in Saudi laws, regulations, and Shariah provisions. Therefore, we have prepared a list in this article that includes the best lawyers in Saudi Arabia with diverse legal specializations, to help you avoid falling into any legal issues.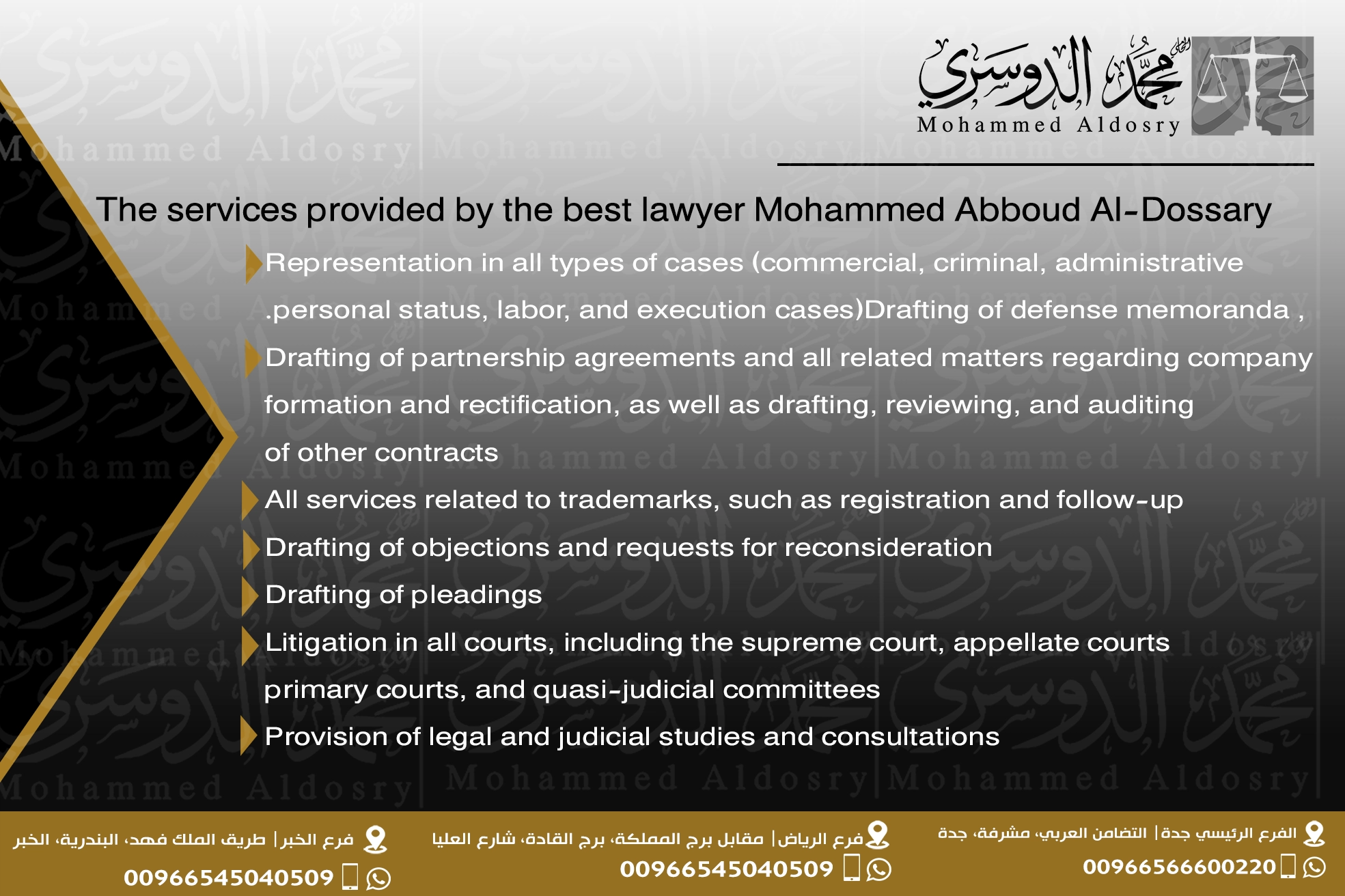 best lawyers in Saudi Arabia.
With many lawyers in Saudi Arabia to choose from, Mohammed Aboud Al-Dossary's name stands out as the best lawyers in Saudi Arabia as a better option for everyone looking for legal assistance and advice in various specialties of Saudi law.
The best lawyer in Saudi Arabia always seeks to provide excellent and integrated services to ensure client satisfaction, in addition to his honesty in work, sincerity in dealing, and professionalism while following the procedures of any case or lawsuit.
The best lawyer in Saudi Arabia provides all legal services, whether through litigation and representation or providing legal advice in a manner that meets all aspirations and serves the client's goals. He makes every effort to fulfill all their rights in conformity with the law in Saudi Arabia, which has made him the best lawyer in Saudi Arabia.
The services provided by the best lawyer in Saudi Arabia Mohammed Abboud Al-Dossary include:
Representation in all types of cases (commercial, criminal, administrative, personal status, labor, and execution cases)
Drafting of defense memoranda.
Drafting of partnership agreements and all related matters regarding company formation and rectification, as well as drafting, reviewing, and auditing of other contracts.
All services related to trademarks, such as registration and follow-up.
Drafting of objections and requests for reconsideration.
Drafting of pleadings.
Litigation in all courts, including the supreme court, appellate courts, primary courts, and quasi-judicial committees.
Provision of legal and judicial studies and consultations.
All of these services are provided with the highest level of expertise in arbitration and notarization for those who wish to resolve disputes outside the courtrooms.
You can benefit from the lawyer's directory service provided by the Ministry of Justice, which includes the names of certified lawyers in all regions of Saudi Arabia, as shown in the following video.
Legal advice in Saudi Arabia.
You will not find a more skilled legal advisor in Saudi Arabia than Mohammed Aboud Al-Dossary Law Firm for Legal Consultations and Advocacy, as he is the top Saudi advisor in Saudi Arabia. The Mohammed Al-Dossary Law Firm provides many legal consultations for companies, individuals, and institutions to solve their legal problems, including:
Advising and assisting in real estate matters, including ownership, obtaining deeds, legal registration procedures, and more.
Consultations in all civil and personal status issues such as inheritance, marriage, divorce, dislocation, dissolution of the contract of marriage, alimony, custody, visiting, and division of estates in accordance with the law and others.
Providing advice related to drafting contracts in various forms and types.
Consultations in corporate law and everything related to establishing a company, drafting company contracts or institutions with the position of each individual, in legal forms, and everything related to commercial law.
Consultations in criminal cases in their legal form.
Consultations in administrative cases, corruption, and bribery issues, and everything related to public sector employees' salaries.
Consultations in compensation cases related to car accidents.
Consultations in commercial arbitration for a company or any other parties.
Consultations in lawsuits filed against social insurance and social security companies.
Consultations in fraud and extortion cases.
Additionally, we provide legal consultations related to your case or problem, explaining the legal standpoint and guiding you on how to deal with it in accordance with Saudi law.
Let's now shed light on how much lawyers cost in Saudi Arabia.
In fact, it is extremely difficult to accurately estimate the cost of lawyers in Saudi Arabia due to several factors, including the circumstances of the case in terms of the effort the lawyer will exert, the time it will take to resolve the case, and the required documents for it.
Top 10 lawyers in Saudi Arabia.
Mohammed Aboud Al-Dossary Law Firm is an integrated and pioneering system in providing all legal and legitimate services and consultations in accordance with the provisions of the system and Islamic law, and what the judicial system has settled upon. It includes a group of the best lawyers in Saudi Arabia with extensive experience in various legal issues and specialties. Here are the top 10 lawyers in Mohammed Aboud Al-Dossary Law Firm:
A commercial lawyer specialized in all commercial cases.
A corporate lawyer expert in all corporate affairs and issues.
A customs lawyer.
A financial lawyer.
A real estate lawyer.
A lawyer specialized in personal status issues.
A criminal lawyer.
A labor lawyer.
A lawyer specialized in administrative cases.
A lawyer for drafting all types of contracts.
What distinguishes the lawyers of Al-Dosary Law Firm is their effort to resolve the case and assist the client to the fullest extent possible. They always keep themselves up to date with the developments of the case and sudden changes that may occur in some cases. In addition, the lawyers of Al-Dosari Law Firm are known for their fairness regarding the costs and fees of the lawsuit. This makes them a popular choice for many clients in Saudi Arabia.
By contacting Mohammed Aboud Al-Dosary Law Firm, the leading company in various cities such as Jeddah, Riyadh, Abha, Dammam, Aseer, and other regions, you can receive the best legal services provided by our firm through the numbers shown on our legal blog.
But let's now guide you on how to find a lawyer in Saudi Arabia.
You can find a lawyer in Saudi Arabia by contacting Mohammed Aboud Al Dosary Law Firm, which includes a group of lawyers who work as an integrated team in all legal proceedings presented to them and provide the necessary legal advice in any legal matter.
Power of attorney in Saudi Arabia.
In Saudi Arabia, a power of attorney (POA) is a legal document that authorizes a person or an organization to act on behalf of another individual or entity. This document is commonly used in various situations, such as business transactions, property management, and legal proceedings.
It is commonly known that powers of attorney that are given from one person to another require the person to go to the Ministry of Justice or one of the offices that perform that function. However, the Ministry of Justice in Saudi Arabia has made sure to provide that service electronically through the following steps:
Firstly, go to the official website of the Ministry of Justice, which is the Najiz platform "from here."
Click on the service (Powers of Attorney and Declarations).
Select (Issuing an electronic power of attorney).
Select the type of power of attorney from the list displayed.
Write the details of the principal.
Then click on Add Agent.
The details of the agent, including name, phone number, ID number, and nature of the power of attorney, must be entered.
The clauses from which the power of attorney is desired must be selected.
The end date of the power of attorney must be specified.
Click on Confirmation.
The website will send you a verification code to your phone number.
Enter the verification code you received.
Click on Register Request.
You will receive the link to the power of attorney for both the principal and the agent.
You can obtain a copy of the power of attorney through the offices or directorates that belong to the Ministry of Justice.
Phone number best lawyer Saudi Arabia.
The phone number for the best lawyer in Saudi Arabia is call: 00966566600220 and call: 00966545040509. This is the phone number of lawyer Mohammed Aboud Al-Dosary, who provides a wide range of legal services with a high level of accuracy and professionalism, in addition to his competitive prices.
Therefore, hurry now and call the numbers on our website when you need any litigation or consultation services in order to obtain the best legal services.
Through the phone number of the best lawyer in Saudi Arabia, you can obtain legal consultations in many legal and judicial matters, as he provides you with many professional legal services and consultations. Being specialized in legal consultations and knowledgeable about the laws and regulations followed in Saudi Arabia, and familiar with all stages of providing legal consultation and reaching the best possible advice for clients.
You can also inquire and seek assistance through the number of the best lawyer in Saudi Arabia for all legal matters related to family, labor, personal status, criminal, commercial, corporate, banking, and other issues.
And finally with our article.
best lawyers in Saudi Arabia top 10 lawyer excellent 2023.
dear reader, you can contact Al-Dosary Law Firm to learn more about the important legal services you can obtain. You can also inquire about any legal matters or procedures related to your case, as well as the costs of the lawsuit, lawyer fees, and other related matters. This will give you a precise idea of your case needs, saving you time and ensuring that you are dealing with the best lawyers in Saudi Arabia and legal consultants in Saudi Arabia.
References of the article best lawyers in Saudi Arabia: